As if the markets aren't confounding enough, how about a quote from a former Senegalese basketball player that appears inspiring on the surface, but is even more compelling when you know the twist.
We'll cover that in this shortened edition of the Financial LIFE Planning weekly, along with, you guessed it, the ups and downs but mostly up week that the market gave us.
---
In this FLiP weekly you'll find:
Financial LIFE Planning:
Quote O' The Week:
Weekly Market Update:
---
---
Financial LIFE Planning
Plan B
You may not be familiar with this Senegalese name--Moulaye Niang--unless you're a big basketball fan. Mr. Niang, a standout basketball player in his native country, once had to rely on the generosity of a neighbor to continue playing the sport...because he couldn't afford a pair of shoes that would fit his oversized feet!
He ultimately rose to the highest level of college basketball at the University of Kansas and became a top NBA prospect. But what makes the following quote particularly special is that Moulaye had to give up his dream to play pro basketball:
Quote O' The Week
If I could have written my own life, I probably couldn't have written it any better.
Indeed, who among us has not had to employ a Plan B (or C...or D) in many areas of life, personally and professionally? But did we find a way to accept it with gratitude and grace? Or better yet, did we embrace it as a blessing and use the twist in our narrative as a springboard into an even more vibrant career or calling?
It's absolutely possible, and that's the message Mr. Niang has to share. Click HERE or the video box below to hear more directly from him: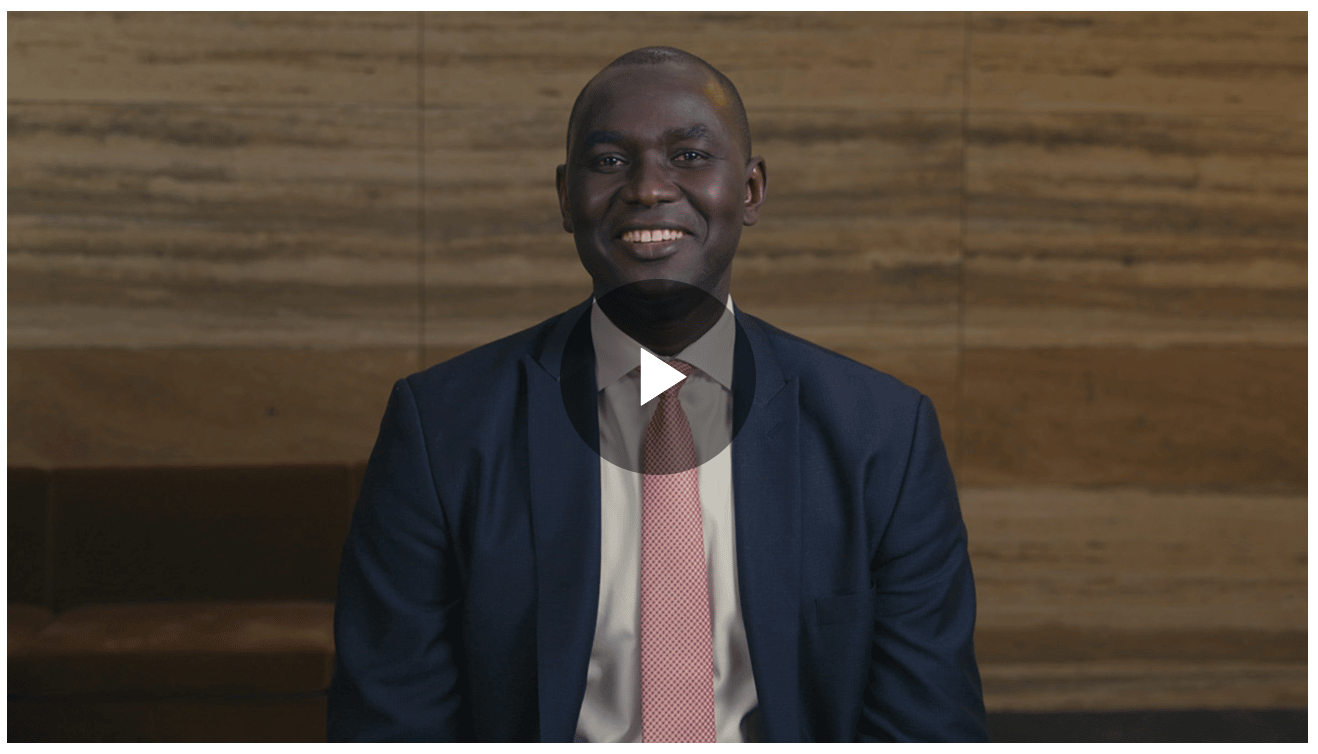 If you'd like to hear more of this inspiring story directly from Moulaye Niang himself--and you happen to live in the Triad area of North Carolina--my firm will be hosting Moulaye Niang to share more of his story, and how he found his personal purpose beyond the court--in helping people better understand their personal finances.
The event will be on Tuesday, November 1 at the Canterbury School in Greensboro, NC. Drinks and hors d'oeuvres wll be served at 5:30pm followed by a compelling discussion at 6:15pm.

Click HERE to reserve your seat!
---
Weekly Market Update
Up, then down, but still mostly up:
+ 1.51% .SPX (500 U.S. large companies)
+ 2.10% IWD (U.S. large value companies)
+ 2.24% IWM (U.S. small companies)
+ 2.19% IWN (U.S. small value companies)
+ 1.92% EFV (International value companies)
+ 0.72% SCZ (International small companies)
- 0.53% VGIT (U.S. intermediate-term Treasury bonds)
Contributed by John Marske, CFP®, a Notre Dame grad and generally good guy.
A Tale Of Two Stories
After falling more than 9% in September and extending its year-to-date decline to nearly 25%, it seemed like the S&P 500 (along with other stock indicies) wanted to rally at the beginning of October. And rally they did! There was no economic news that spurred the rally, just a knee-jerk reaction that perhaps we had sold off too much in September.
The Dow gained 1,590 combined points over Monday and Tuesday, and the S&P 500 skyrocketed from a level of 3,585 to 3,791, and everything seemed good in the world. But there still seems to be enough uncertainty to satisfy the bears.
Two weeks ago, we reported the UK government announced a tax-cut plan to spur their economy. You might recall that announcement caused UK bond yields to spike higher. This past Monday, The UK government reversed its decision to cut taxes. Uncertainty abounds.
On Wednesday the OPEC nations met and agreed to cut oil output by two million barrels a day. Our economics 101 courses have taught us that a decrease in supply results in an increase in prices. The last thing the Biden Administration wants these days is an increase in oil prices.
As such there was talk of another release of strategic oil reserves in the U.S. to keep a lid on oil prices. There was also news that since many OPEC members weren't meeting their output targets, the real cut by OPEC would be smaller, about 950K barrels per day. At the end of the day, the news did not have a great effect on the stock market, as the U.S. indicies suffered only minimal losses. However, 10-year Treasury yields jumped from 3.6% to 3.78%.
The selling picked up on Thursday, as oil prices and treasury yields continued to rise. After briefly getting over the 3,800 level on Wednesday, the S&P 500 ended Thursday at 3,744.
The September jobs report was released on Friday. In the past, markets often had large moves on the employment report. These days, the employment report has had less of an influence, as investors have been much more focused on the monthly inflation reports. The report showed a gain of 263,000 jobs in September.
Expectations for the number ranged from 250,000 to 275,000. The unemployment rate dropped from 3.7% to 3.5% and wages increased 5%. All of these numbers were pretty much in line with what was expected, so you wouldn't think there would be much of a market reaction. Think again!!
This market seemed intent on looking for reasons the Fed will get less aggressive in their plans to increase rates. Unfortunately, this report led many to conclude that another 75 basis point hike might be in the cards when the Fed next meets in November.
Ten-year yields jumped above 3.9%, before eventually falling back to 3.87%. Oil prices rose for the fifth straight day. After hitting a low below $80/barrel in late September, oil (as measured by West Texas Crude) finished Friday above $93. And stocks tumbled. The S&P 500 finished the week at 3,639.
We ended the week positive but gave up more than half of the gains realized on Monday and Tuesday. Next week we will see the release of the September inflation reports and we will also start seeing the release of third quarter earnings reports in the next couple of weeks. Investors will have plenty to focus on.
Even though "good news" on the economy — which would include positive earnings results — might work its way toward "bad news" in terms of the Fed's monetary decision, we can remain hopeful that too much bleakness has been priced into the market, and we might see more days like this past Monday and Tuesday where the market is "destined" to spike upwards.
But as in all forward-looking market insight, the operative word there is "might."
---
Next weekend you won't see a new FLiP in your inbox...because its editor is getting married and taking a few days off. :-) But we'll be back in email action the following week!
Best,
Tim
---
Thanks so much for being part of the FLiP community!
And if you've found your way to the bottom of this newsletter and aren't already part of our community, feel free to click THIS LINK and join the club! All you'll get is a weekly reflection on life and money every Sunday morning in your inbox. No spam. Ever.
Oh, and BTW, The information in this article is for educational purposes only and should not be construed as specific investment, accounting, legal, or tax advice. That should really come from your financial advisor. I'm thrilled to work for Triad Financial Advisors, but what I write is my opinion, and not necessarily theirs.